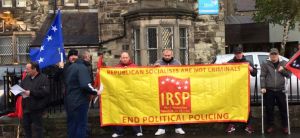 Less than 24 Hours after the IRSP in Belfast had hosted a successful protest against a public outing of the so called 'Paramilitary Crime Task Force' in the North of the City, armed and masked members of that group launched an aggressive dawn raid on the home of a key protest organiser in what is being viewed by Republicans as a blatant act of retaliation.

The former Republican Socialist prisoner was one of several IRSP members who had gathered at the Duncairn centre on Tuesday afternoon to protest against a spate of erroneous arrests of IRSP members and raids upon their homes, in what the party believes to be both a Fascist style punishment of republican dissent (in line with the aims of the 'Fresh Start' Agreement) and a more general financial scam by the 'PCTF' who are set to receive scores of millions of pounds in return for creating the perception of tackling 'paramilitary crime', using IRSP members and working class Catholics generally as 'arrest and release' Guinea pigs.

The 'Paramilitary Crime Task Force' is a cover name for an amalgamation of several units within MI5 and the PSNI who came together following the so called 'Fresh Start Agreement'. In return for gaining a pot of almost fifty million pounds worth of public funding, they have supposedly been tasked by both Stormont and Westminster with ending perceived 'paramilitary crimes' in Nationalist as well as Loyalist areas.

However, to create the perception of 'balance' in this task the PCTF appear to have embarked upon a campaign of 'Raid, Arrest & Release' of both IRSP members and perceived party supporters, citing empty accusations of criminality and relying upon a compliant press to 'carry the story' to the public.

This grossly cynical tactic was publicly exposed and discredited in a Belfast court last September, much to the embarrassment and anger of the PSNI/MI5.
The IRSP turned up at Bobby Singleton's public event at the Duncairn centre to raise awareness of this uncomfortable truth and handed leaflets to all those in attendance highlighting the scam occurring under their noses.

Evidently the PCTF did not like being called out on this fashion and utilising tactics fully worthy of the Old RUC, launched yet another raid and arrest on the home of the event's organiser, seizing not only a Disability car as they did so, but an array of children's Christmas presents, computers, phones, I Pads etc.
The organiser was then predictably released within hours without charge.

The IRSP again call on all involved in such cynical displays as Tuesday's event to examine their conscience in regard to both being used and tolerating such clear cases of political policing.