CAPITA, the private company who run the government's disability assessments has been forced to close their offices in Derry after the IRSP organised a protest at their premises on Strand Road earlier today.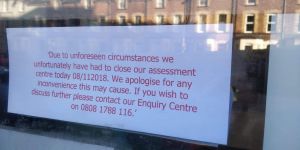 Speaking at the protest IRSP spokesperson Danny Morrison said that the company had been to the forefront on the economic attacks on working class people by way of unfair practices when assessing disabilities.
The IRSP were joined at today's protest by a number of independent councillors, the 32CSM the Creggan Community Collective, Shantallow Community Collective, Galliagh Community Empowerment and Ballymagroarty Community Empowerment as well as local welfare rights advisors.
CAPITA, on hearing of the protest, closed their offices for the day and cancelled all appointments.
The IRSP will continue to oppose draconian attack on our most vulnerable and we will use every opportunity to highlight these issues. Many disabled people have had very bad experiences in CAPITA and we will stand in solidarity with working class people during such attacks. We welcome the participation or other political and community activists at today's protest.