IRSP activists in Belfast, Strabane, Derry and Glasgow have utilised national St Patrick's day celebrations to both announce and launch the party's official campaign to secure a future referendum on Irish unity and national independence.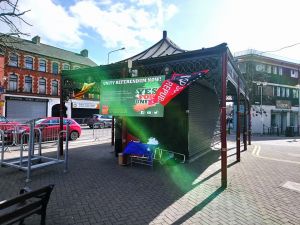 Last September the IRSP laid out its position on the issue of such a referendum via its 'Britain out of Ireland, Ireland out of the EU' document in which it stated clearly that the party would actively support and work towards a border poll or unity referendum regardless of what mechanism it occurred under.
Encouraged directly by lessons learned from recent delegation trips to Catalunya, the party decided to utilise the national day celebrations here to push for a unity referendum.
In Belfast around twenty party activists gathered from early on in the Castle Street area where a large board demanding a unity referendum was mounted on a van. Several thousand leaflets explaining the party's demands for a border poll were handed out to the large crowds who flocked into the city centre for the annual St Patrick's day march.
Several former Republican prisoners agreed to speak on camera and explain the IRSP position in relation to the initiative.
Gerry Foster (Belfast) emphasised the encouragement that the movement had taken from comrades in Catalunya in recent times, stressing the importance of utilising national celebrations here to launch the next political push for Irish national independence.
https://www.facebook.com/IRSPBelfast1/videos/2094612567466595/
Ciarán Cunningham (Newry/Armagh) stressed how the demographic shifts which now see thousands of young people confidently express progressive Irish nationalism on a street level must also be channelled at a political level, with that confidence expressed in the form of campaigning openly for a border poll and a successful outcome.
https://www.facebook.com/IRSPBelfast1/videos/2094579370803248/
Tarlach McConnell (Fermanagh) gave a very emotional analysis of how he felt as he witnessed "the peoples journey into Belfast City Centre", he said "the architects of partition a hundred years ago didn't provide for this, the demographic shift of the people", "Just as we see the people begin their journey today into the city to express their Irish national identity, so to do we begin our journey, launching our national campaign for our ultimate goal of a united Irish Socialist Republic".
https://www.facebook.com/IRSPBelfast1/videos/2094589054135613/
In Strabane, IRSP activists established a symbolic 'referendum polling booth' in the town centre, with mock ballot papers being handed out to passers by that asked the simple question 'Do you want to see the unification of the nation and its people?'.
https://www.facebook.com/IRSP.Page/videos/1730012317037310/?hc_ref=ARS8MM4tVjO6QfGEpSOTdJqbLSpE4wTssd4sfbZLQXJDDEAE0NtqFLvMym3_V6f3kTM&fref=nf
Encouragingly, one of the first to step forward and vote was the Sinn Féin chair of Derry & Strabane district council Maolíosa McHugh, needless to say the eventual result of the mock referendum was an overwhelming 'yes' (out of 306 votes polled only two 'No's were returned. Strabane IRSP spokesman Michael McLaughlin concluded by saying 'the national day needs to be politicised, not de-politicised. We aim to see our national day utilised to push for the ultimate goal of a referendum for Irish unity'.
In Derry, IRSP members began their St Patrick's day activism by erecting a large hoarding in the Shantalow area demanding 'Unity Referendum Now' while later in the day several thousand leaflets demanding the same were handed out by activists interspersed throughout the march.
Derry spokesperson Danny Morrison concluded the day by speaking what is now on many peoples minds stating, 'the campaign for radical constitutional change is now well underway, and Republican Socialism will be very much in the vanguard of that change'.