The Irish Republican Socialist Party today protested a public get together of the so called 'Paramilitary Crime Task Force' a section of the PSNI which in recent times have launched a public campaign of criminalisation and victimisation of Republican Socialists and members of the IRSP in particular.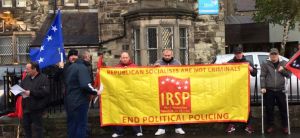 The cynical get together was organised under the questionable auspices of several organisations set to gain from copious amounts of public funds provided by Stormont/Westminster "Executive Program for Tackling Paramilitary Activity" and occurred at the Duncairn Community Centre on the Antrim Road.
Central to the meeting and in attendance were representatives from the PSNI/MI5 driven "Paramilitary Crime Task Force".
Last month following weeks of politically driven raids on the homes and party offices of Republican Socialists in Belfast, the IRSP publicly accused the PCTF of being involved in a scam to gain £50 million pounds of public funds by creating the perception of 'INLA criminality', arresting random Catholics at times coordinated to coincide with arrests of actual active criminals and drugs dealers and in order to create the perception of a crackdown on paramilitary crime.
This fraudulent tactic carried out by Bobby Singleton's force was exposed in court in September when Judge Fiona Bagnell refused to remand in custody two men whom the PCTF had strategically placed in the dock, beside an unconnected individual, accused of possession of Cocaine.
Today's picket sought to draw attention to this criminal scam carried out on behalf of the PCTF, with speakers also drawing attention to the fact that while working class people across the North were suffering from the effects of Stormont austerity, no expense was being spared in the business of targeting political activists who did not sign up to that project.