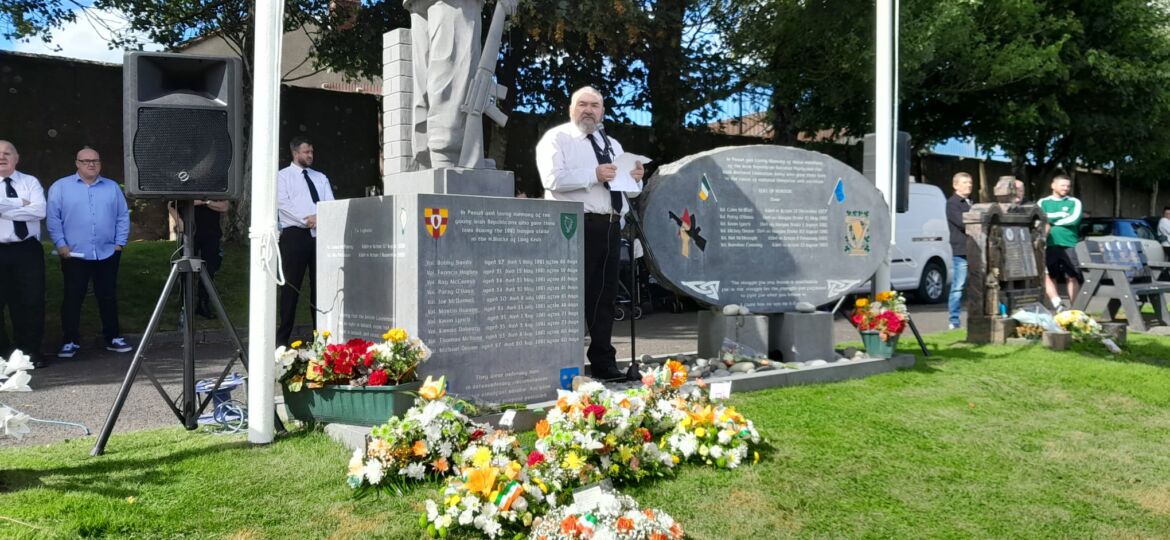 Friends and comrades,
It's an honour to be asked to speak at this event as we remember, as we do every year, those who died within the grey walls of Long Kesh during the hunger strike of 1981. As we gather at their gravesides we remember the ultimate sacrifice paid by the hungerstrikers. It can never ever be overstated what these men selflessly went through. Their dedication to their comrades and to the fight against criminalisation was immense. So dedicated they were that they laid down their very lives in the most drawn out and painful way.
Our comrades Patsy O'Hara and Micky Devine lie buried in these graves. 41 years have now passed since the people of this city came out in their tens of thousands to stand in solidarity with their families as they were laid to rest right here at the top of this historic cemetery. We are immensely proud of their contribution to the Irish freedom struggle.
Their names will be forever immortalised among the names of those heroes of Irish freedom and they stand in equal stature with the likes of Tone, Connolly and Pearse.
It is often asked whether those who died in the latest phase of the struggle died in vain. People rightly argue that our aims have not yet been achieved therefore did they die for nothing. These are valid points and not without merit. But when it comes to the hungerstrikers I don't think we can make the same arguments. Let us look at the context of their situation when they made the decision to join the strike. There were hundreds of republican prisoners suffering the very worst extremes of the British prison system in Ireland, locked away and controlled by loyalist staff. They were isolated and deprived of the most basic of amenities. From 1976 until 1981 republican prisoners were denied political status by the British regime. Despite years of action through the no wash protests they knew that the brits simply did not care. They needed to take their protest to the next level so in 1980 there was a hungerstrike which comprised of 6 IRA volunteers and one INLA volunteer.
This protest came to an end when there were indications of a british offer. It later transpired that what the British were offering and what they delivered was not the same. So in 1981 the IRA led by Bobby Sands and the INLA led by Patsy O'Hara embarked upon a hungerstrike that would ultimately lead to the deaths of ten republican prisoners. Those prisoners knew precisely why they were taking part in the hungerstrike. They were fighting against the criminalisation of the republican struggle. This was one battle in the overall war. This was a battle that the prisoners ultimately won. Within months all of the demands of the prisoners were met. Political status was recognised de facto and all other demands around prison work, clothing and free association were met. The prisoners were successful but that victory came at a cost. The lives of ten men. But as I said earlier the prisoners themselves knew exactly what they were getting into and went into the hungerstrike with their eyes wide open and aware of the consequences of what they were embarking upon. To them, in that place and time, there was nothing more urgent or more pressing than winning that battle inside Long Kesh, for victory meant much more than simply being able to wear your own clothes. It was a striking victory in the eyes of the world against the might of the British war machine in Ireland.
*** We in the IRSP always strive to promote and encourage unity among the working class. We have never shirked from this. One of the main issues that arises every single summer is around contentious bonfires, the burning of flags, posters and effigies. This further compounds division and hatred. We need to move away from this. The IRSP are making ourselves available for direct dialogue with those from republican or loyalist communites who have direct involvement in the bonfire issues in order to explore ways in which traditions can continue without causing offence and distress to neighbouring communities. We are up for this and this is an open invitation for dialogue.
As we remember the sacrifice of our comrades we need to ask what more we should do in order to fulfil their political legacy. We need to look at where we are at and what needs to be done. Whilst that battle was won inside Long Kesh, the war which many others gave their lives for has not. The British presence in Ireland remains. We need to re-double our efforts at removing the British government from our country. The opportunity to do this has never been more apparent. Despite what British unionists may claim, their union is on it's knees. Brexit has created a situation whereby the majority of people in Scotland and here in the north for the first time, want nothing to do with the British state and want to break away. The IRSP have been to the forefront in the campaign for a border poll in Ireland. We need to keep this pressure on. We need to remind people that they can bring about real change. If we work together and with a focus on our end goal I believe that we can finally remove the British political and military establishment from our country.
Comrades, let us all get behind the Yes for Unity campaign and finally build a fitting memorial to our comrades who lie buried at this place and in other hallowed places across Ireland. Let us free Ireland without any more comrades ending up in prisons and without any more of our comrades having to die to achieve it. Now that the opportunity presents itself it would be a crime against the memory of the men who we gather to remember if we did not grasp that opportunity and turn their dreams into reality. Comrades, our day has come. We must not squander it, too many have died and we must build the republic worthy of Bobby, Francis, Ray, Patsy Joe, Kieran, Kevin, Thomas, Martin and Micky
Let the fight go on!