Representatives of the Irish Republican Socialist Party at the weekend attended and addressed an international anti-imperialist conference in Athens, Greece, which ran from 7-9 of October. Also during this period events were organised including a screening of the film 'Fedayin' about Georges Abdallah, a Lebanese political captive being held by France, and a  political sight-seeing tour of Athens.
This was the 20th Anniversary Anti-Imperialist Front International Symposium, and it was attended and addressed also by Turkish representatives from Serbia, Bulgaria, Greece, Donbas, Belarus, Syria, throughout Europe, Native America, Latin America and the American black community. Those addressing the conference included Jalil Muntaqim, who was imprisoned for 49 years due to alleged activities carried out while he was a member of the Black Panther Party and Black Liberation Army; Mohammed Khatib, of the Samidoun Palestinian Prisoner Solidarity Network and Vittorio Bolognesi, a former prisoner alleged to have been a member of the Italian Red Brigades.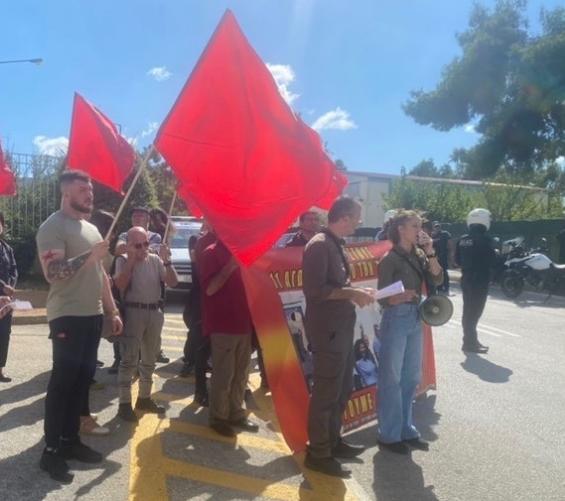 Key topics included the current plight of Turkish prisoners and activists who are being imprisoned in Turkey, Germany and Greece at the behest of the Erdogan regime. Referenced in particular were the 11 Turkish prisoners in Greece who are facing lengthy imprisonment at present. Also addressed was the situation in Donbas facing victims of the fascist Ukrainian/Zelensky regime. The situation in Palestine and the conditions of Palestinian prisoners was also raised. Furthermore the conditions of Native Americans, particularly Native-American prisoner Leonard Peltier and the conditions of minority communities in the USA were highlighted; while the political and oppressive activities of Latin American states were addressed by representatives from Peru, Mexico and Chile. The continuation of police brutality and torture was raised and articulated particularly by the father of a young political activist, Vasilis Maggos, who was beaten to death by Greek police. As he lay beaten to a pulp before his death Vasilis told his father "I did not cry before those fascist pigs". Comrades from European countries further outlined the conditions in their respective countries and the prospects of campaigning against imperialism there.
The IRSP attends these events in its capacity as a serious political force determined to lead a Socialist Republic in Ireland. It is enthusing to find others whose energy matches our own in this regard in their respective homelands. As we look toward the necessary conditions for building Socialism we cannot abandon our responsibility to align with other like-minded forces.
"While key anti-imperialist forces today continue to stymie, repel and counter-advance on the forces of imperialism; it is the building of anti-imperialist states and governments which have prevented the imperialist forces from recognising their goal so. In this regard the IRSP is wasting no time in Ireland"

Nathan Hastings