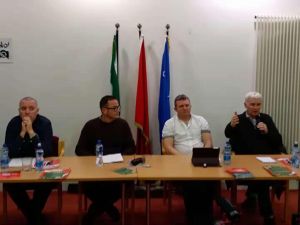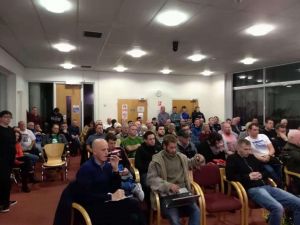 The IRSP took part in a YES For Unity hosted panel discussion in Strabane Library with various strands of republican thought to discuss a "Road to Referendum" towards a United Ireland.
The "Road to Referendum" public talk and debate is the beginning of a simulated unity referendum to be carried out in the Strabane-Lifford area over the coming weeks. We will be knocking on as many doors as possible; talking to anyone who will listen on the economic, cultural and social benefits that a United Socialist Ireland will bring.
In the first phase of the public consultation activists canvassed the "Head of the Town" area in Strabane which delivered a massive 98% support for Irish Unity.
YES For Unity hope to give a new generation of republican and socialist activists an opportunity to gain experience, learn the arguments that will win the debate on Irish unity & dispel the fears of the Irish working class on the great period of change that lies ahead.
We need to assure people as we move towards a United Ireland that a simple merging of two corrupt capitalist states is not what we propose, rather the exact opposite. The building of a phoblact nua based on the principal of cherishing all of the children of the nation equally an Ireland for the many not the few.
The Strabane Road to Referendum discussion, during which republicans and socialists came into a room and discussed our common interest's is not the end, YES For Unity will not be stopping in Strabane –Lifford, we will be bringing the Simulated Border Poll Unity referendum to Derry City in early 2019 then hopefully further afield as an unstoppable momentum develops towards ending the historic injustice of partition.
Panellists said
"The concrete analysis is: this is the first time since the formation of this State, that we can genuinely and honestly hold confidence that we're now in a stage where this State is coming to an end."
– Tommy McKearney, PODSRF.
"Brexit, then, establishes a renewed imperative towards Irish unity – that Ireland at last be reunited. With the difficulties faced by our divided country set only to intensify, in a manner not seen here in many decades, this is now a national priority and indeed THE national priority."
– Sean Bresnahan, 1916 Societies.
"The fact is, the most likely battlefield that is going to emerge in front of us now is going to be a Border Poll. It is not how I foresaw struggle happening in Ireland, but it has nothing to do with what I want. When that does happen, when a Border Poll situation arises, it is going to be bigger than the IRSP, its going to be bigger than Sinn Fein, its going to be bigger than Fianna Fail. It will take the form of what we saw in Scotland."
– Ciaran Cunningham, IRSP.
"During participation in the broad based YES For Unity campaign we can find common ground. This broad based campaign should be welcomed by all political parties and individuals who support Irish Unity."
– Brian McMahon, Sinn Féin
During the next phase of the Simulated Unity Referendum activists will canvass the Lisnafin to Carlton Drive areas. Assemble at the Lisnafin Shop, Strabane, BT828DJ at 5pm.